Stay up to date with the latest developments!
May
Cool initiatives
On Labor Day it is good to look at what we gained during this pandemic period.
My thoughts:
As consultants we are regularly road warriors going to and from different customer locations. It is undeniably better for the environment and our health to drive less
Most contact moments have moved to digital through various collaboration tools and getting hold of stakeholders is easier than before
Lastly, willingness to cooperate and think outside normal boundaries is significantly up. Both from a company and an individual stance
I am surprised by the resilience of the individuals at both our customers and Itility. It may be with pajama pants and business shirt, but creativity and productivity has mostly continued. Face-to-face interaction is something I miss dearly; we are humans after all.
May is a short month for us with both school and public holidays. There are some initiatives worth mentioning though:
Further hands-off IT by implementing chatbots, predictive analytics, and immutability in platforms #AIOps
Three engagements around #Kubernetes, an assessment, #DevOps service, and migration strategy
A public cloud cost control project, with everything from tagging, rightsizing, automation, and enterprise charging models
Have a great, healthy, and collaborative May!
Stay Connected
Itility family
Working from home is challenging - so #cool to see how our #Itilians adapt. We see much more traffic on Itility's internal communication platform (Yammer), with people sharing tips and handy ways of working: Microsoft's Whiteboard app for virtual whiteboards, Skribbl for scribbling, and Scratch for keeping the kids occupied with coding.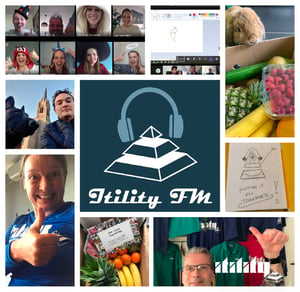 An increasing amount of Yammer initiatives arise where Itilians stimulate each other to post pictures and stay connected. Examples of this are the Itility-t-shirt-Thursday or the 'round-the-church-morning-walk'. Additionally, to lighten up the last day of the week, we now have DJ Dennis who hosts a whole day of music streaming with Itility FM.
Due to corona, our #data #Itilians could not give their Eindhoven University of Technology data science lecture live at the campus. For this reason, we recorded the full session of 'data science in practice: real-world use cases' for the data science / BI students to follow it online.
Interested? We created a 20 min digital recap for you! Check it out
April
Scenario thinking
It is April, the beginning of a new quarter. And with most companies bracing for a few months of hard(er) times, I thought it was best to share examples of where we are working with our customers on accelerating their digital strategy, planning for different impact scenarios or just plain old working together. Because no one was quite prepared for this pandemic, scenario thinking is more important than ever.
What we are working on:
Acceleration of data-driven use cases to reduce production costs at a high-tech customer
Cost reduction and architecture assessment on public cloud environment at a utilities company
Extending VDI environments (obviously). But more importantly, using ML models to detect anomalies and proactive resolution to decrease productivity loss
Where we are teaming up:
Shared Friday drinks with mixed customer teams
Sharing tips on the best ways to digitally collaborate, in the form of tools and way of working
Video messages of us and customers for both service and product team
In the end, this might also be the right time to go digital...
Stay Connected
Itility family
We are #proud of the flexibility of our Itilians. We are all working from home and being strict in social distancing - out of care for our customers and the Itility family.
Working from home on this scale creates practical and personal challenges. It is great to see Itilians coming up with creative solutions to stay connected, energized, and productive, and deliver value to our customers as always. Even if this means the boundaries between work and family are sometimes blurring.
Some of the initiatives: in addition to the virtual daily standups, we organize virtual coffee breaks, Friday chips (an Itility tradition), and afternoon drinks to stay in touch. To stay fit Itilians can enroll for a virtual bootcamp in their living room! Furthermore, to balance work and family life, some Itilians organize their household in a handy time schedule.
Seeing people connect like this, helping each other out, and finding solutions to new challenges, creates the positivity that will enable us to overcome this situation.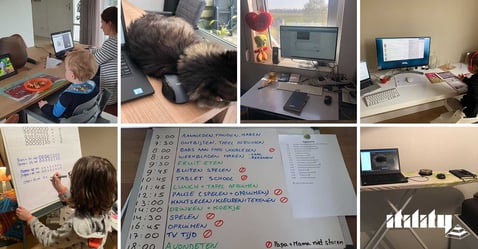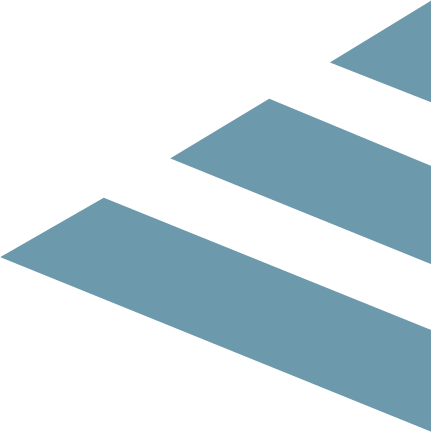 Back to overview